15 COZY HORROR MOVIES


We wrapped up "The Coziness of Horror Movies" article with a list of film recommendations. Today, we're following up on that list with 15 cozy horror movies to watch on a rainy night (or any night). Obviously, it's a niche, the words cozy and horror rarely end up in the same sentence, but if you enjoy horror films then you'll appreciate the cozy introductory scenes and the palpable suspense in these movies.




Mandalay Entertainment


1. I Know What You Did Last Summer (1997)
Directed by Jim Gillespie, written by Kevin Williamson

The story of Julie, her friends, and their pact to keep the stranger they killed in a hit and run, a secret forever. They group of teens hangs on a beach by a fire or cruise the streets as a unit, the amount of friends having fun is endearing and gives a lot of character to the story.

"I Know What You Did Last Summer" follows Julie and Ray in their struggle to hunt down the man haunting them with reminders. The scenes that involve their lives before the killing, in essence the first twenty minutes, are really cozy.




Mandalay Entertainment


2. I Still Know What You Did Last Summer (1998)
Directed by Danny Cannon, written by Trey Callaway

Following up on Julie's narrow escape in the original, one year down the road - she is trying to forget she came so close to being murdered. Ray is working as a fisherman and also trying hard to forget, in place of Ray a new man steps up.

A pretty vanilla character called Max joins them on an impromptu trip to the Bahamas. It turns out it was the last day of the season and they're practically alone on this island resort. Join us in watching "I Still Know What You Did Last Summer" over a few Dark & Stormys.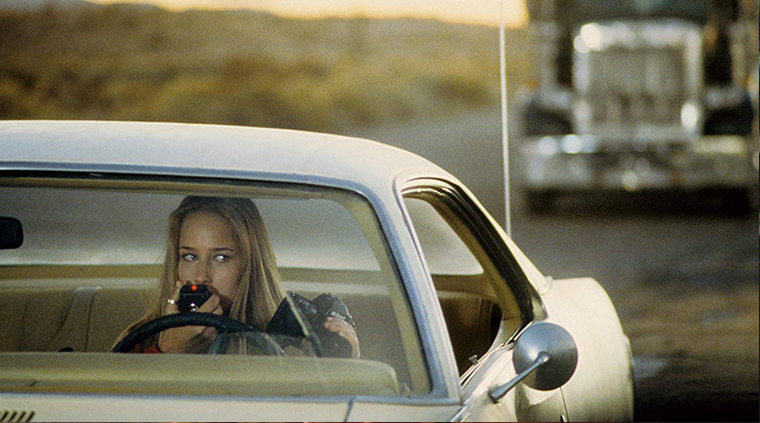 Bad Robot Productions


3. Joy Ride (2001)
Directed by John Dahl, written by J. J. Abrams & Clay Tarver

It's Summer break, The main character, Lewis, drives across America to see his crush, he's picking up is brother (fresh out of prison) who gets him to play a practical joke while they're driving. They prey on some lonely trucker over the CB radio. The trucker is mad and wants revenge, he seeks out their car and terrorizes them on the road.




Original Film


4. Urban Legend (1998)
Directed by Jamie Blanks, written by Silvio Horta

A group of college students are entangled in a bloody rampage that only a comprehensive understanding of urban legends can get them out of.

Have you ever heard the story of the hook-handed man who kills lovers while they're making out in their car? What about the story of a young man seduced who awakes to find his kidney missing? These stories and more are brought to life by a serial-killer who recreates the killings spoken of in "Urban Legends".




Warner Bros


5. The Shining (1980)
Directed by Stanley Kubrick, written by Stanley Kubrick, Diane Johnson.

In Kubrick's spiralling family horror, Jack Torrance is offered a position as groundskeeper of the Overlook Hotel. It's deep in the Colorado Rockies, far from anyone. Jack's a writer, so naturally he loves the idea of some peace and quiet. Yet due to months of merciless isolation and manipulative spirits laying dormant in the hotel's walls, Jack is possessed by a bloodthirsty rage.




Dimension Films


6. Scream (1996)
Directed by Wes Craven, written by Kevin Williamson

Sydney Prescot lives with her father in the small town of, Woodsboro California. Sydney's mother was violently killed one year before this film takes place. Sydney had always assumed Cotton Weary, a man her mother had slept around with, was to blame. In Wes Craven's horror classic "Scream" she will learn that the killings have not stopped, that on the anniversary of her mother's murder, Sydney, herself, is a target.

Scream is a cozy film because of the costume department, adidas stan smiths, a grey sweatshirt, jeans, waking up after an afternoon nap? These are elements to forge a cozy yet unsettling mis en scene. As Sydney awakes to the phone ringing, it sets in that the sun has gone down. Scream is an unforgettable first watch, and ages like fine wine.




DreamWorks Pictures


7. The Ring (2002)
Directed by Gore Verbinski, written by Ehren Kruger

Adapted from the Japanese horror novels, "Ringu", this American adaptation follows Rachel Keller and her son Aiden. A cursed VHS tape has been circulating, leaving bodies in its wake. The tape summons a vindictive spirit that warns that it will kill the viewer in 7 days unless they show the tape to someone else. When Aiden watches the tape accidentally, Rachel is forced to solve the mystery of the tortured spirit trapped on tape.




New Line Cinema


8. Final Destination 3 (2006)
Directed by James Wong, written by Glen Morgan and James Wong

If you're unfamiliar with the Final Destination saga, you're in for a treat. Originally written by Jeffery Reddick as a spec script for the producers of "The X Files". Thankfully they passed on it and the concept flourished into a handful of thrilling, engaging, gory films.

The Final Destination films revolve around the idea that death cannot be cheated, dodged, escaped or side-stepped - it is against nature. So when four or five people make it off a rollercoaster bound to fly off the rails, death comes after them in unique and terrifying ways that could only be described as "freak accidents". We recommend the third film because it proved these films could push past a third film, that the core idea was stronger than just a trilogy. But if you do find yourself in a marathon mood, then we definitely recommend watching all 5.




Perfect World Pictures


9. The Snowman (2017)
Directed by Tomas Alfredson, written by Hossein Amini, Peter Straughan & Søren Sveistrup

A serial-killer is on the loose in the vast white spread of Oslo, Norway. Set during the winter, "The Snowman" follows a detective and recovering alcoholic that wishes to be more involved with his estranged son. Throughout the film tiny clues are left behind in bloody crime-scenes, eventually leading the detective into a sickly justifiable death-trap. He's never been there for his wife or son before, now they need him more than ever.




New Line Cinema


10. Nightmare on Elm Street (2010)
Directed by Samuel Bayer, written by Wesley Strick Eric Heisserer

The horror movie that made closing your eyes something to dread. Nightmares affect everyone, from children to adults, very little is known about how dreams or nightmares feel so lifelike while inside them. In "Nightmare on Elm Street" the unconscious mind is a prison, and you mustn't fall asleep or you will be trapped and killed inside your own mind. Can these teens face their innermost fears and retain power over their own minds before they're killed?

Although this is a remake of Wes Craven's 1984 classic, it has a much cozier atmosphere and less terrified, even traumatized characters.




Screen Gems


11. When a Stranger Calls (2006)
Directed by Simon West, written by Jake Wade Wall

Baby-sitting at the Mandrakis residence, Jil Johnson is grounded. Hey, it's not all bad, the kids are already asleep and these people live in an incredible lake-side mansion complete with indoor nature preserve. What Jil doesn't know is that a series of killings have taken place recently, the victims were all baby-sitters. When a stranger calls, Jil will have to find out what they want and where they are before anyone is hurt. The 2006 version of "When a stranger calls" is a remake of the 1979 film.




DreamWorks Pictures


12. What Lies Beneath (2000)
Directed by Robert Zemeckis, written by Clark Gregg

We all keep secrets, "What Lies Beneath" takes a closer look at a pristine marriage. The husband seems like an upstanding guy, the house doesn't seem particularly scary, the neighbours are okay. When a secret is unearthed that leads Claire to see her husband Norman differently, the film evokes a nail-biting tension forcing us to ask "is Claire's husband a killer and is his secret worth killing for?"




Screen Gems


13. The Covenant (2006)
Directed by Renny Harlin, written by J. S. Cardone

This coming of age horror follows Caleb and his mates as they explore their inherent supernatural abilities. The film loosely follows the mythology of witches in Ipswitch, the cozy atmosphere is set by lots of rain, crisp autumn days and dark dorm-room settings. The Covenant was made in 2006 and has aged like fine wine, it's too teen, it's not too horror, it's somewhere in between.




Village Roadshow Pictures


14. House of Wax (2005)
Directed by Jaume Collet-Serra, written by Charles Belden, Chad Hayes & Carey Hayes

On their way to a college football match, a group of friends sets up camp overnight when things start to go wrong. They wake up the next morning to encounter their car, busted up, they are lured into a ghost town. If you can manage to move past the film's gruesome intro, there are cozy camping scenes and it's an enjoyable watch before things get ugly.




Lionsgate


15. Cabin in the Woods (2012)
Directed by Drew Goddard, written by Joss Whedon & Drew Goddard

Cabin in the Woods, an off-beat horror involving five teens that drive up to a property (the cabin) and spend the night. They find out pretty fast that not everything is as it seems. There is someone pulling the strings, making them all act differently.

Cabin in the Woods is a cozy horror simply because it's easy-viewing, it has new inciting incidents every few seconds and keeps you wanting more. The set is decorated superbly, simple but nice.