THE NEVERENDING TOUR: AN INTERVIEW WITH PARCELS
February 18, 2019 / Jesse Rintoul


Parcels, the music of a heated summer evening when the sun dips, the same music that warms us through an icy winter. The band of five that has kept the good times rolling all over europe in 2018 originally formed in Byron Bay, Australia and migrated to Berlin where they are based. When they're not taking on an insane touring schedule that practically demands them in a new country every other day. With the release of their helplessly catchy self titled album "Parcels" the world has a new boyband, and they're back in Australia. They have a dream run playing The Triffid in Brisbane on the 9th, Brunswick Heads NSW, The Metro Theatre in Sydney and finishing on the 14th 170 Russel in Melbourne. After taking the music that they pour themselves into writing, rehearsing and performing to so many stages the boiling point is being reached, they can do no wrong now. Thinking back on it, having no idea who they were or their music when last year started, it's a different story alltogether now.

Lauded for their work by the likes of Daft Punk, Conan O'Brien, Harpers Bazaar and British Vogue we learn more about where their mellow electricity originates.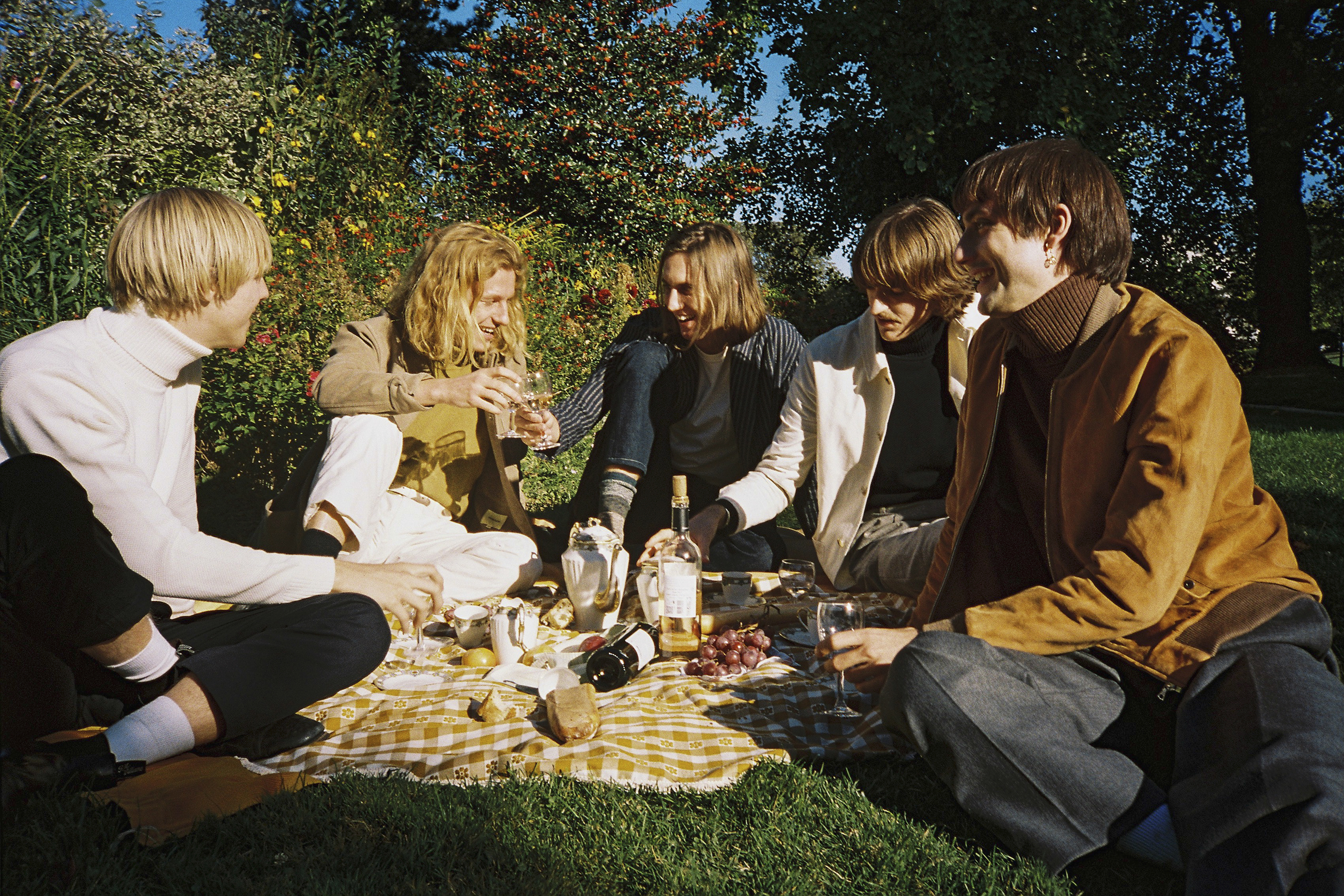 So you guys have been travelling all year selling out shows from California, Berlin has loads of love for you (of course), and now France, after 33 tour dates how are you feeling during an experience this massive? What's been the tour highlight so far?
We're about to head off on the big tour in a few weeks! It's really exciting, some of the venues like the Troubadour or Olympia in Paris have such history. That's one of the coolest things, to imagine Jerry Garcia or Paul Mccartney on that same stage.
Tough call, this is Pat speaking, and I will speak as an individual for moments in this interview. I'm going to call Stockholm one of my tour highlights of the year, a very unexpected and more low key festival which just had a lovely feel. And being somewhere so foreign to us for the first time yet to see such a cool crowd response was humbling.

What do you really want from a Parcels album and who usually contributes first in the writing process?
We want to enjoy making it. We never want to feel bored or stale in the writing process. We want it to be layered so it also doesn't get boring to hear. We want to create something that feels new and special to us, yet we want to draw on feelings that we have from music in our pasts.
The process is different for each song. For this album usually it started with a demo from Jules, Noah or myself which then was worked into a Parcels song together in a sort of re-demoing process. Then taken to the studio. But some songs, like Everyroad or Lightenup, are a total collaborative process with all five from the start.

Artists from Australia like Tame Impala have made songs with a title like "Nangs" so I'd be remiss not to ask of your experiences with psychedelics when you were younger up until now.
We come from a fairly hippie town. We are certainly not frequent users, neither do we publicly condone their recreational use, but psychedelics were definitely around.
Noah and I had a terrifying yet beautiful night one year at a folk festival as we cowered in a jellyfish car to escape a storm and I embraced my inner Cowboy persona. Toto also talks fondly of the time he met his shadow.

When and where was the track "Allaround" first thought of, discussed?
That one was a journey. It started as a collaboration, at the very start of this project. We had just begun producing tracks on the computer and releasing them ourselves. It was a real trip to suddenly be thrown into this online pool of home producers of which we were never aware. But we ended up working on a song a little bit with an artist from Amsterdam.
We abandoned that track we were working on, it just wasn't feeling right. But during that process we followed a few other inspirations and took it to another place, there we had the idea for the chorus and mood of Allaround! It must have come out about two years after the original idea.



When your debut album comes out who will be the first person to call you? What are your moves after the release, straight back on tour or enjoying some much earned time off?
We thought about throwing a party but we opted for a civil dinner instead. Just the Parcels boys, a few girlfriends, our close touring and management family and Lucky and Zino (with whom we recorded, mixed and mastered the record). It's going to be sentimental, we'll see who steps for the emotional speech...
After that we pretty much go on tour.

You all picked up instruments pretty young, right? like, around 13,14, how did you meet each other? Was there ever a moment where Parcels might have never happened?
Most of us met at the start of high school. In an awful catholic joint where sport was above everything and we had to break into the music rooms at lunch to have sneaky jam sessions. From there people moved around, we had a number of bands in different style, but they were all basically a mix up of the same pool of members.
When I think back actually I feel like Parcels was always meant to happen. It's the summation of all our varied musical pasts and these guys are the guys I always loved playing with the most.

When I tried to find out what Record Label you guys were on google just threw "Kitsune" at me, I knew it was a French fashion company but had no idea it was a record label. The video for tieduprightnow is pretty fashionable. Do they advise you guys on what to wear for your music videos?
Not so much, they gift us the occasional beautifully designed pant or jacket, but we're very keen to have our own style and that's what they want too. It was never really a question, they separate the music and the fashion for the most part.



Who encouraged each of you the most, on days you thought there were setbacks or the dream was too big?
Our old music teacher Tom Whittaker (not from the catholic school, from a school we moved to a few years later). God bless him, he was the best, so inspired and encouraging. To come full circle we brought him on tour with us a few months ago! He hopped in the tour bus and did his first Euro trip with the boys. That was a beautiful experience.

While you're on tour what's the most important thing to remember?
Never shit in the bus.

While Parcels can be danced to it also feels moody and romantic at times, have any of you ever done something impulsive or weird for love?
Absolutely, we five throw romantic gestures around like one dollar bills. At one show Noah fell in love on stage, with a girl in the second row, love at first sight some might say. Then, with no forewarning, just as we were getting ready to start a song, he launched into a solo bass and vocal cover of Into My Arms by Nick Cave. It was disconcerting and confusing at first but when we saw him looking straight at her singing with such honesty there was nothing we could do except to admire the power of spontaneous love.